Microsoft SharePoint 2013:Search your site
From PlexHosted Knowledgebase

Search your site
SharePoint 2013 provides intuitive, fluent and engaging search experience to users. Search box appears on the most pages of SharePoint and allows you to perform search on the current list or library, site or subsites.
Search results page is divided into three main areas – a search box with a query, search results, and refiners pane at the left. Refiners allow you to set additional filters to your search results and find exactly what you are looking for.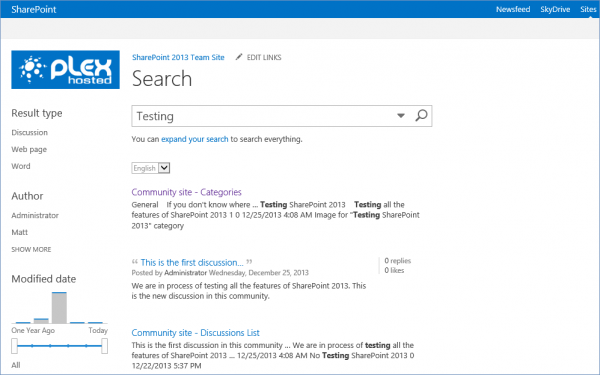 These three are as on the search results page technically are three different Web Parts connected with each other – Search Box Web Part, Search Results Web Part, and the Refiners Web Part.
Search results page provides the option to hover over the results and see a callout with a live preview and different action depending on the type of result.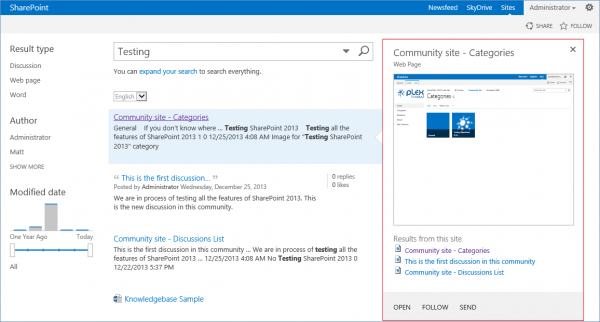 For example from this callout menu you can click "Edit Document" action for the result of a document type. Additionally, each search result is showed with an indicator, office icon, for example.



In Addition to search boxes, you can use Search Centers to perform search. There are two types of Search Center in SharePoint - Enterprise and Basic. Basic Search Center is available with all SharePoint editions. Enterprise Search Center is available only with SharePoint Enterprise or Standard.
Enterprise Search Center provides search verticals in addition to the common search experience. Search verticals are special pages that allow search for specific content – People, Conversations, Videos or all content(Everything).


Searching sites and refining results
Login to your SharePoint site.
On the home page enter search query into the Search box and click the magnifying glass icon or press Enter.

You can see the search results page. In addition to the default three areas, it provides the total number of results and search word or word combination is highlighted in the titles of all results.
In the Refiners pane on the left click on Word under Result type to filter results and display only documents.

For more information about SharePoint 2013 please see SharePoint 2013