Microsoft SharePoint 2013:Managing Community sites
From PlexHosted Knowledgebase

Managing Community sites
Previously, we have created a Community site, take a look on how to do it at the following page - Creating Community sites.
After creating a Community site you can manage members of this site, categories, discussions and other settings.
If you have chosen create unique permissions for the site while creating a new group Moderators will be created on this site. This permission level allows users to view, add, update, delete, and moderate list items. Regular member are not allowed to manage categories and member`s items.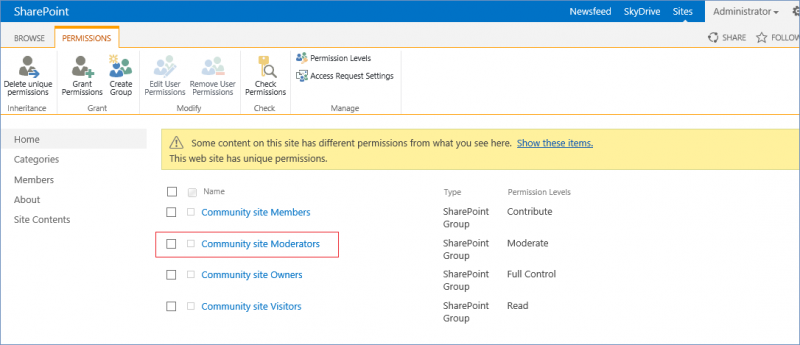 On the Members page you can see all the members in the community sorted alphabetically. You can assign badges to members and filter the view by top contributors, new members and change sorting to Z-A view. Additionally you can view the information about members like their reputation. The more that a community member contributes, the higher his reputation.
Community Tools
Community Tools provide administrators with links to manage discussion, create categories and badges, assign badges to members, and configure, reputation settings and community settings.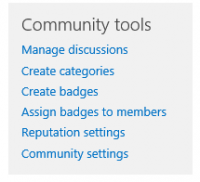 You can also find the links to these tools on the Site Settings page.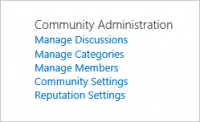 On the Community Settings page you can to allow users to report offensive content by turning on Reporting of offensive content option.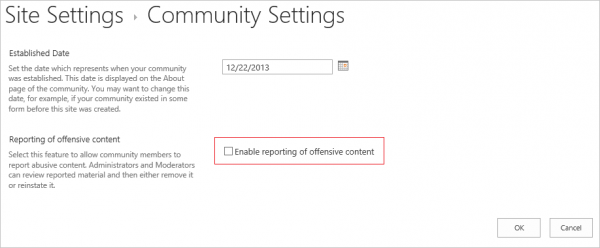 On the community Reputation Settings page you can:
Creating categories and discussions